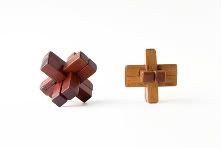 Chinese Puzzles:

Games for the Hands and Mind
Traditional Chinese Puzzles from the Yi Zhi Tang Collection
中國傳統益智遊戲
"This unique and exciting exhibition will bring much enjoyment to viewers of all ages!"
– Terese Tse Bartholomew, Curator Emeritus, Asian Art Museum of San Francisco
Runs: July 22 – October 11, 2008
Chinese Culture Center Gallery
750 Kearny Street, Third Floor (inside the Hilton Hotel)
Gallery Hours: Tue-Sat, 10-4
Admission: Free
Related activities:
"Hands-on-Puzzles" workshops (school groups & summer programs) (More information)
Puzzle Party for All Ages: Aug 9, 2008, 12-4pm (More information)
Puzzler's Day: Aug 30, 2008, 12-4pm (More information)
>> Click here to read San Francisco Chronicle's article by columnist Jon Carroll
In China, puzzles are called yizhi youxi (intelligence games), and for many generations they have challenged the minds of young and old and tested the ingenuity of rich and poor alike. Along with its history of art, culture and science, China also has a rich tradition of puzzles and a fascination with puzzling objects. Besides, many traditional Chinese puzzles are artistic creations that reflect classical art form and display extraordinary craftmanship.
Chinese Puzzles: Games for the Hands and Mind is an exhibition of antique Chinese puzzles from the Yi Zhi Tang Collection and will include traditional puzzles, such as tangrams, nine linked rings, and sliding block puzzles. But it will also have examples of puzzling objects, visual puzzles, and cleverly designed practical objects, such as puzzle rings and multi-step padlocks.
Chinese Puzzles will be the first exhibit in the U.S. devoted exclusively to the subject of Chinese puzzles. Bay area residents Wei Zhang and Peter Rasmussen created the Yi Zhi Tang Collection after spending twelve years crisscrossing China and exploring Western antique markets to collect these rapidly disappearing handcrafted objects.
An important part of the Chinese Puzzles exhibition will be its hands-on component. While the antique puzzles on display will please the eye, visitors will also have a chance to challenge their hands and minds by playing with and solving an assortment of newly made Chinese puzzles.
Chinese Puzzles is presented by Chinese Culture Center's Modern Classics Project.
This exhibition is funded by:

Vincent Woo Foundation
Photo 1: Wood sliding block puzzle, Shanghai, 1930s
Photo 2: Wood burr puzzles, China, 19th-20th century
Photo 3: Wood tangram, Canton, 19th century
All photographs by Niana Liu